Learn to Make Super Easy Supercharged Salad With Chef Jenny
Plus Numerous Cooking Hacks That Save You So Much Labor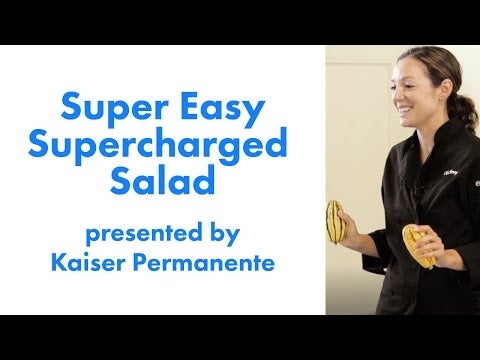 Chef Jenny of Kaiser Permanente shows you how to make a delicious greens-and-grains salad with delicata squash and other variations. Plus, she shows you a bunch of techniques that make cooking super easy.
Chef Jenny's Cooking Hacks:
Trick to dicing onions
Get pomegranate seeds out super-easily
Make gourmet salad dressing with this simple emulsion trick
How to make quinoa taste great
How to roast vegetables
Chef's knife techniques
Recipe: Quinoa Salad with Delicata Squash, Goat Cheese, and Baby Kale
By: Chef Jenny
This quinoa salad is full of flavor and has enough protein and fiber to keep you full throughout your day. It's a great choice for packing as a weekday lunch or creating a colorful side dish for a holiday dinner.
Ingredients:
2 medium Delicata squash, cubed (¾ inch)
1 cup Uncooked quinoa
1 ½ cups Water
1 Seeded pomegranate (can sub dried cranberries or dried cherries)
1/2 cup Crumbled goat cheese or feta
1/4 cup Toasted nuts or seeds (pumpkin seeds, pine nuts, almonds, pecans
3 cups Baby kale or arugula
Dressing:
1/2 cup Olive oil
1/4 cup Balsamic vinegar
1 tsp Dijon mustard
1 tsp Honey
1 T Shallot
Salt and pepper
Directions:
Preheat oven to 450 degrees. In a bowl, toss diced squash with olive oil and sprinkle with salt and pepper. Spread the squash out on a sheet tray lined with parchment paper and roast until tender and lightly browned (about 20 minutes).
Rinse quinoa with water using a fine mesh sieve (this removes the bitterness). In a saucepan, bring the water to boil and then add the rinsed quinoa. Simmer on very low heat, covered, for 15 minutes. Turn the heat off and allow quinoa to rest for 5 more minutes, covered. Fluff with a fork and set aside to cool.
Add all of the ingredients for the dressing into a jar and shake! Taste for sweetness, acid, and salt.
Arrange the salad: feel free to get artistic! You can mix everything together in a big bowl* or just toss the quinoa and squash with the vinaigrette, serve over a bed of greens, and sprinkle additional ingredients all over it. Taste again, may need a sprinkle of salt. Enjoy! *If quinoa or squash are still quite hot, the greens will wilt and the cheese will melt. Consider letting these ingredients cool before tossing together.