ACERA Chief Investment Officer Betty Tse Named as One of Top 30 Public Pension CIOs of 2017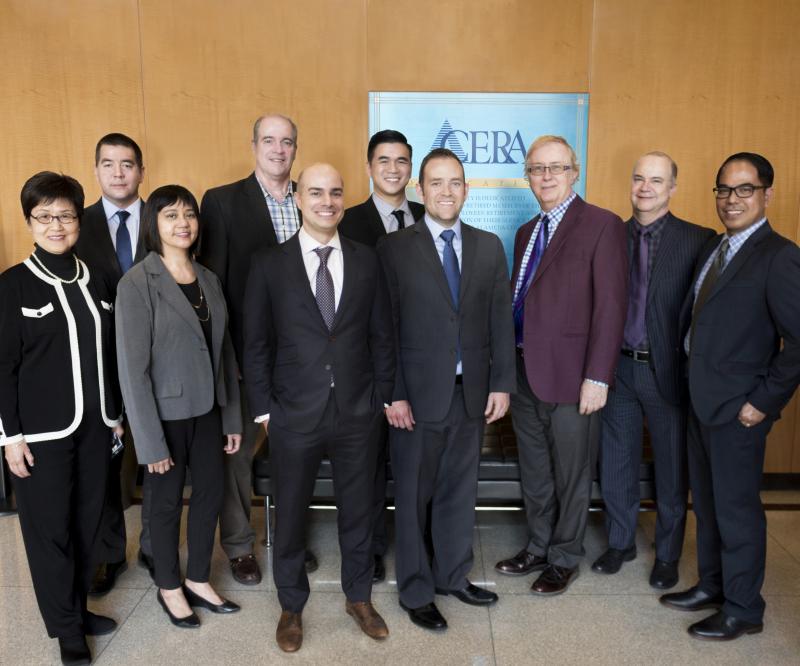 From left to right: Betty Tse, Clint Kuboyama, Agnes Ducanes, Tom Taylor, Ryan Breslin, John Ta,
Rob Walters, Phil Wogsberg, Grant Hughs, Bernardino Cabradilla
ACERA Chief Investment Officer (CIO), Betty Tse, has gained recognition for her outstanding work managing ACERA's portfolio for a second time in TrustedInsight magazine, a trade publication for institutional investors.
In 2016, TrustedInsight named Ms. Tse as one of the Top 30 Women Chief Investment Officers of that year. And again, this year they named her as one of the Top 30 Public Pension CIOs of 2017. ACERA stands out as one of the few county funds on a list of other CIO notables such as Christopher Ailman of the California State Teacher's Retirement System and John Skjervem of the Oregon State Treasury and Oregon Public Employees Retirement System.
"I am very proud," Ms. Tse states in her 2016 interview with TrustedInsight, "that the ACERA Investment Department has been able to consistently deliver strong returns and to meet the policy requirement of upper quartile performance in the defined benefit universe that we occupy. Our strong investment returns help to reduce the unnecessary distraction that some of my peers have to manage."
According to a recent public fund universe analysis prepared by investment consulting firm RVK, ACERA's 16.0% return (net of fees) for the year ending June 30, 2017 ranks ACERA's total fund as #1 among all the twenty '37 act counties in California and #3 in the entire universe of public funds. Additionally, ACERA ranked #3 among the county funds for its 5-year annualized return, and #5 for its 10-year annualized return.
ACERA's investments team has grown under Betty's supervision from one person at the time of her appointment to ACERA 17 years ago to a staff of ten today. She recognizes the entire investment team has been crucial to ACERA's portfolio success and played a part in earning this honor.
"Our risk management process," Ms. Tse continues, "is really well thought out and well implemented. I consider all of our investments staff not just investment professionals aiming for returns. We're very good risk managers."
The balance of ACERA's investments team is Ryan Breslin, Bernardino Cabradilla, Agnes Ducanes, Grant Hughs, Clint Kuboyama, John Ta, Tom Taylor, Rob Walters, and Phil Wogsberg.